Let's get back to things that I have some control over: lighting. Admittedly, I rely a lot on Aaron for this, but I am capable of clicking 'place order' and I'm mighty good at it.
When we moved into the house, I knew we would have to replace all of the lights because, well, because they were basically all either dreaded boob lights or they were other totally inappropriate monstrosities. Our Flipper (as I call him) had installed really cheap stuff, which is fine, but it was also all really ugs. For example, there were sconces that were there to collect moths, there was a gothic-inspired top light, and there were brown-glass pendants in the already soaking brown kitchen. Ew!
By my count, we have now replaced 17 light fixtures in our home (one twice) and put three up where there weren't lights before. Six lights have come from Barn Light Electric, five have come from CB2, three from Pottery Barn Teen, three from West Elm, three from Etsy (one of these has yet to be put up), and one from Ballard Designs. That's a lot of lights. There are two more hall lights to be replaced, one is just waiting for AO to have some time, and three bathroom lights that are in the queue, waiting for the checkbook to have some padding. And it'll be a long wait because, er, kitchen.
Here's the thing. It hasn't been a cheap overhaul, but good lighting makes a huge difference in a space. It sorta sets the tone for everything, whether you have the lights on or not. The top lights in our bedroom are rarely on, of course, but they sparkle when they're off and make me feel like we've added a little glam to our lives. This creamy white and brass number from CB2, at $60, became my inspiration for the whole kitchen remodel. And I couldn't be more excited for how I think it's all going to turn out. (Fingers tightly crossed.)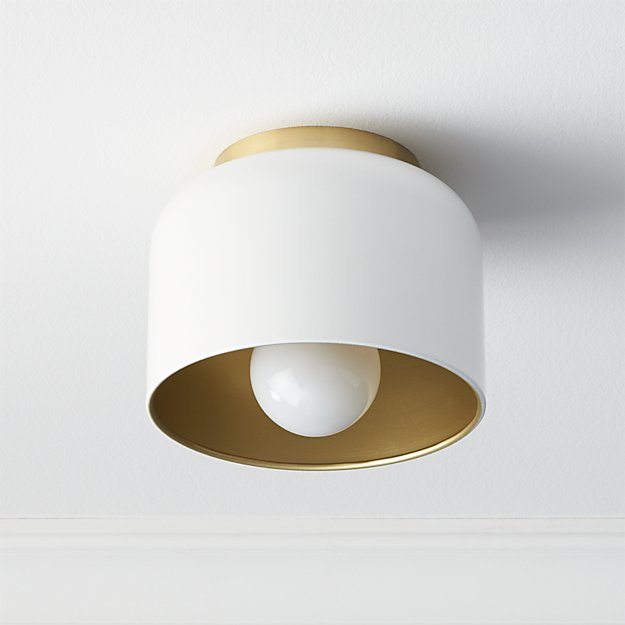 So while I get annoyed that Our Flipper spent pennies on crappy lighting and installed it everywhere, I'm glad that I'm not having to replace someone else's expensive choices with my own. And I know AO is super duper glad about the whole thing. Tee hee.